CEDAR GROVE CEMETERY TRACES ITS ORIGINS to the public spirited citizens of the Town of Dorchester of the mid-nineteenth century. With a strong sense of community spirit — an attitude still characteristic of today's Dorchesterite — town meeting members in 1858 established a committee "to procure a suitable lot of land for a cemetery."
This committee failed in its efforts, but a new committee was appointed on April 1, 1867. In barely more than a year this group found a thirty-acre parcel on the banks of the Neponset River, worked with the Legislature of the Commonwealth of Massachusetts to enact the required enabling legislation and then presented its recommendations to Dorchester's town meeting on April 6, 1868. The recommendations were approved and the designated "Cemetery on Neponset River" came into being.
Original landscape design and layout was completed by Luther Briggs, Jr., who was prominent in the field at that time. On January 19, 1869, the name Cedar Grove Cemetery was officially adopted, bearing witness to the clumps and groves of Cedar trees that thrived in the fields along the river. Its first superintendent was James Emery. By the end of 1869, nearly forty acres of land had been accumulated, bordering on Milton Street and Adams Street, and partly on Granite Avenue and the Neponset River. The first burial took place on February 24, 1870, when Rachel Marie Winsor was laid to rest here.
In 1871 the Old Colony Railroad sought eminent domain to build a right of way through the Cemetery. After negotiation, the Railroad agreed to build a train station, now known as the Cedar Grove Station, in exchange for the land. This event caused the unique feature of a railroad bisecting our Cemetery, and has been noted in Ripley's Believe It or Not and Harry Fig's Believe It or Not as the only cemetery in the United States with a trolley running through it. See More.
In 1872 Frederick M. Safford became first Superintendent of Cedar Grove Cemetery. For the next twelve years under his energetic leadership until his death on May 17th, 1884 at the age of 37 years, 10 months, the Cemetery was laid out, filled in, drained and structured, providing the core of roads and burial sections that exist today. During this time the first greenhouses were erected, a receiving tomb was constructed, extensive grading and fencing accomplished and hundreds of trees planted which still today add shade, color and dignity to our grounds. Mr. Safford is buried at Cedar Grove Cemetery, and the inscription on his headstone reads:
Dead, with his work unfinished,
Dead, with Life's Harness on,
Dead, with his plough in its furrow,
Dead, ere his daylight was gone,
Dead, with his hand on the lever,
Dead, with his flag at full mast,
With the work that he left unfinished,
Finished by Death at Last.
May 2, 1887 marked another milestone for the Cemetery. On that date Cedar Grove was incorporated as a private cemetery by an act of the Legislature, and the City of Boston relinquished its jurisdiction. The Commissioners became Trustees, elected annually by, and directly responsible to, lot owners for the management of the Cemetery. The first Board of Trustees included names which even today many Dorchester people recognize: Nathan Carruth, Albe C. Clarke, Henry L. Pierce, William Pope and W.H. Swan. This change in no way affected its philosophy of operation which was then, and still is, to provide for this community a dignified and peaceful burial ground for its people on a non-sectarian and non-profit basis.
Subsequent years saw gradual and steady growth. In 1901, a new office was built, adjacent to the main gate at the corner of Adams and Milton Streets, to accommodate our administrative needs. In 1917, bequests by Dr. Eugene A. Gilman and his wife, Harriet D. Gilman, provided funds for the construction of our beautiful chapel. However, due to intervening legal matters it was not until 1929 that the funds were released. The Gilman Chapel was completed in the spring of 1931, and stands today not only as a monument to their generosity but also as a local landmark and community gathering point at Christmas and Memorial Day. More and more frequently, it is also being used for committal services.
Since World War II, the Cemetery has purchased additional parcels of land on Milton Street, Adams Street, and Butler Street. This has expanded our land area to approximately seventy acres. Several new sections have been opened, and others are in the process of being opened. Today we offer additional internment options – above ground crypts and columbarium, both discreet and sanctified resting sites for caskets and cremated remains.
Although Cedar Grove must plan ahead to provide burial space while preserving the dignity and solitude of its grounds, it will always be aware of its community roots. In recent years it has made great strides in advancing this policy, especially through contact with the local clergy and with local civic groups. We are particularly fortunate to have the support of the volunteer group Friends of Cedar Grove Cemetery, which has provided us with both fresh ideas and new features on our grounds.
Many notable people have been buried here over the years. They include: Congressional Medal of Honor recipient James W. Verney and Wilmon Blackmar; Former Mayor of Boston George Hibbard; last surviving pall bearer of Abraham Lincoln Senator John Conness; Samuel German, who invented German Chocolate at the Walter Baker Company; and Sarah Smith, mother of Rev. Samuel Francis Smith, the author of "America."
Notable individuals to have been buried here more recently include: Boston firefighter Stephen Minehan; Massachusetts State Trooper Paul Barry; Massachusetts State Senator Joseph Walsh; and Boston City Councilor James Kelly.
Cedar Grove Cemetery has had more than 45,000 burials, and has sold more than 19,000 gravesites. Our current available inventory is 800 gravesites, several above-ground crypts, and a few niches for ashes. We are in the process of developing several new areas to add to our inventory in the near future.
Our ultimate goal is to perpetuate this memorial ground as a place of quiet contemplation, a connection to our past and an example to the future.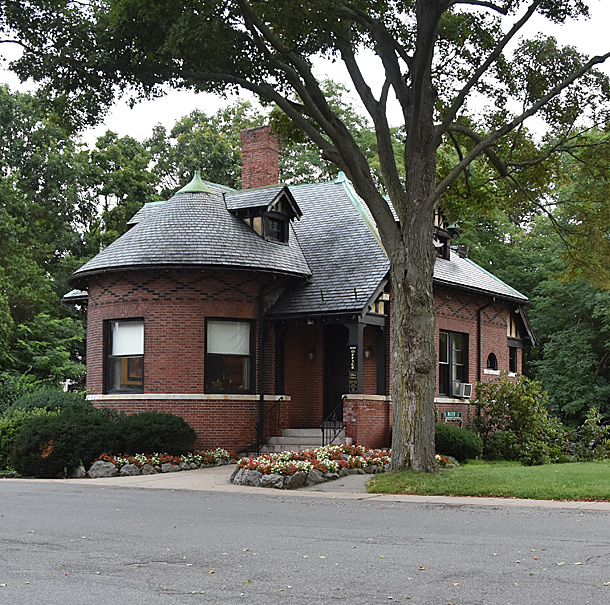 Cemetery Office at the Adams Street entrance, near Milton Street. Built in 1901. Click on the image for an enlarged view.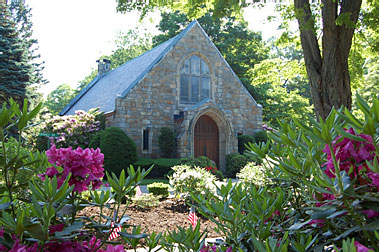 Eugene A. Gilman Memorial Chapel. Built in 1931. Click on the image for an enlarged view.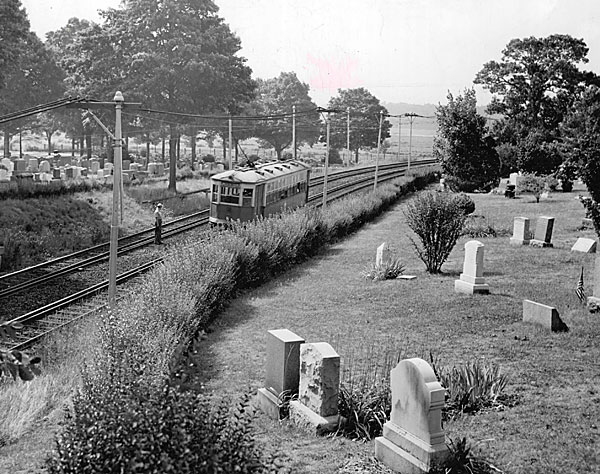 Photo taken by Herbert Stier that first appeared in the July 8th, 1949 issue of the Boston Traveler shows the trolley running through Cedar Grove Cemetery. Photo courtesy the Boston Herald. Click on the image for an enlarged view.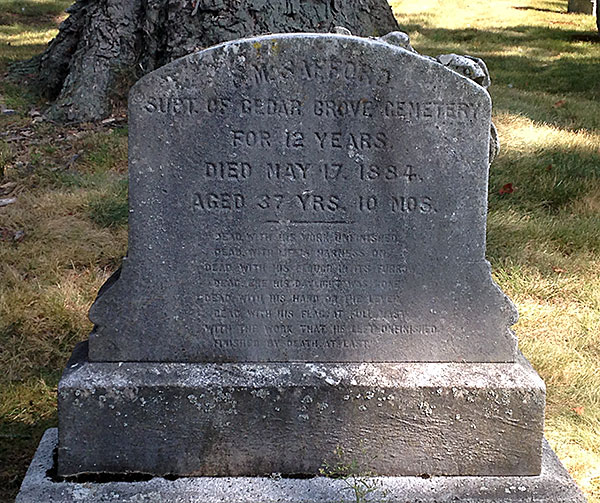 Headstone of Frederick M. Safford, first Superintendent of Cedar Grove Cemetery. Click on the image for an enlarged view.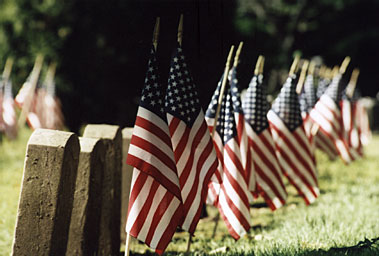 Civil War Veterans' Graves. Click on the image for an enlarged view.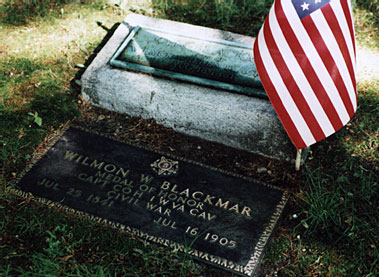 Grave Marker of Wilmon W. Blackmar, Civil War Medal of Honor Recipient. Click on the image for an enlarged view.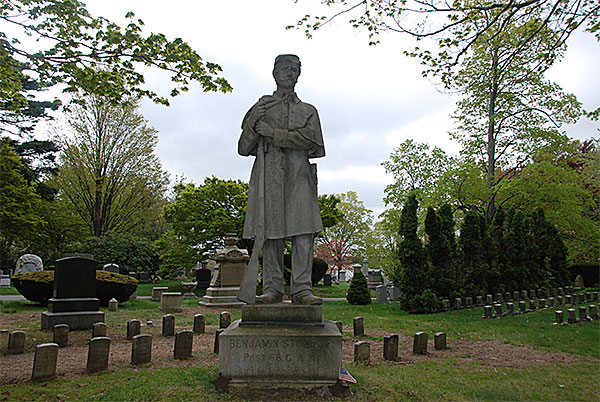 Statue of Benjamin Stone Jr., Post 68 G.A.R. (Grand Army of the Republic). Gift of Thomas F. Temple. Click on the image for an enlarged view.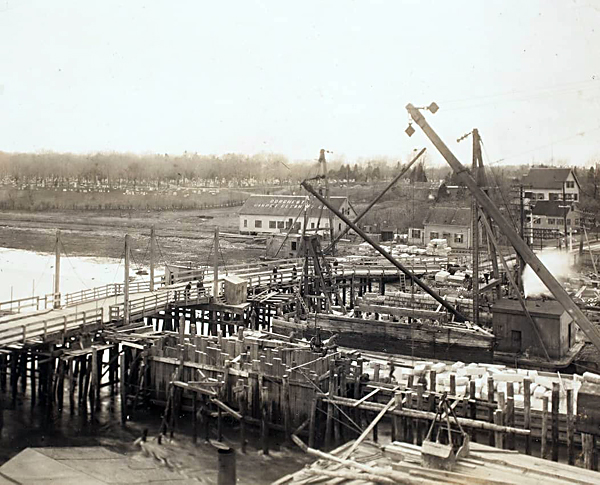 Granite Avenue Bridge under construction over the Neponset River – April 9th, 1914. Click on the image for an enlarged view.