Make a lasting memorial to a loved one with our Plant a Tree program.
Beautiful from the Beginning
When Cedar Grove Cemetery was organized in 1867, it was only three years since the end of the Civil War, and Dorchester was still an independent town. The land granted for burials was in the southernmost area of the town, bordering on the Neponset River and downstream from the Milton / Dorchester lower falls. The land was blanketed with cedar trees and rose gently over a puddingstone ledge. The area was home to a variety of bird life and small animals, remote in a rural setting.
Today, the cemetery continues to preserve its identity as a serene and bucolic patch of nature; a place of quiet contemplation. Now having passed its 150th year, the cemetery's trustees have begun an extensive tree planting program to ensure the natural beauty and to protect the unique ecology for generations to come.
Remember a Cherished Loved One with a Personalized Memorial Tree Planting
You can join us in honoring this posterity while at the same time remembering a cherished loved one with a personalized memorial tree planting. By making a donation to the Cedar Grove Cemetery's PLANT A TREE program, your tax-deductible donation of $500 entitles you to place the name of a loved one at the site of the planted tree.
We invite you to contact us or call our office at 617-825-1360 for more details about the program.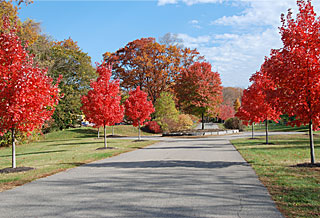 Plant a tree to memorialize a loved one. Call the Cemetery office for details at 617-825-1360.