Gilman Chapel Restoration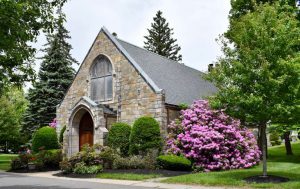 THE TRUSTEES OF CEDAR GROVE CEMETERY are very pleased to announce the launch of an extensive restoration of the Gilman Chapel to coincide with celebration of the 150th anniversary of the incorporation of the cemetery.
Scheduled to begin on April 23rd, 2018, this restoration effort will involve many much-needed repairs to the interior and the exterior of the Chapel, including the slate roof, gutters, masonry, interior plastering and repainting, and restoration of the stained glass windows in the second phase.
As a result, the chapel will be closed to the public for an estimated 6 to 8 weeks, with a targeted completion date of late June, 2018. Because the Chapel will be closed during the restoration, the cemetery's annual Memorial Day Mass for this year will be held in an outdoor, tented venue.
The Trustees are hoping for financial support from the community for the second phase of the project. A fundraising campaign to benefit the Gilman Chapel Restoration Fund will kick off in May.
To keep the community and all those interested up to date on this major restoration project, we invite you to "stay tuned," and to come back from time to time to see the latest news.
Visitors to the cemetery will notice that the first phase of the Gilman Chapel renovations began in early May. Staging has been set around the building and the roofers have begun repairing leaks and replacing parts of the slate roof. Please note that while...
read more
Restoration work on the Gilman Chapel is scheduled to begin on April 23rd, 2018. The Trustees have contracted Capital Construction Contracting, Inc., a Dorchester company, to begin the initial phase of the work. Anyone interested in learning more about...
read more